A global and collaborative culture of inclusion
Leading our diversity efforts
At Mastercard, combining our industry expertise with the diverse insights from our global workforce is at the core of our diversity strategy. Our dedication to cultivating an environment for all employees that respects their individual strengths, views and experiences is our foundation. We aim to promote increased engagement, which naturally leads to greater innovation and productivity.
Our Global Diversity Office provides a framework that supports business processes and procedures by considering, integrating and leveraging diversity globally.
The driving force behind our diversity strategy
The stature of Mastercard's Global Diversity and Inclusion Council (GDIC) reflects the value the company attaches to diversity. It acts as a board of directors for our Global Diversity Office, providing direction to ensure our strategy is embedded throughout the organisation.
Chaired by our Chief Executive Officer, the GDIC has members drawn from all of the company's business regions: North America; Latin America/Caribbean; Europe; Asia/Pacific; and Middle East and Africa. It meets six to eight times a year to evaluate different programmes, partnerships and other proposals that are presented as potential means of enhancing shareholder value.
Nurturing an inclusive culture
We leverage the unique strengths, views, and experiences of our employees through our support of Business Resource Groups (BRGs). These self-governed groups are comprised of individuals who come together based on similar interests or experiences, such as gender or ethnicity. BRG members help us to identify business programmes that address the needs of diverse consumers by providing feedback on new ideas and initiatives, partnering with specific organisations, and reaching out to their communities.
Diversity is driving results
Mastercard 2017 Gender Equity Report
At Mastercard, we want to create an environment where the best people choose to be. We provide opportunities for our people to do purpose driven work that impacts customers, communities and their co-workers on a global scale.
Our industry expertise is enhanced by the diverse insights and perspectives of our global workforce, which is at the core of our inclusion and diversity strategy. We are dedicated to cultivating an environment where all of our employees feel valued, respected, and have the opportunity to reach their greatest potential regardless of their difference. To meet those expectations and to sustain our growth and performance, we must always challenge ourselves to provide a workplace where the best individuals can thrive.
In particular gender diversity continues to be an area of focus. As of December 31, 2017 nearly 40 percent of our global workforce was female.

While there is more work to be done, we are making progress in the percentage of women holding senior positions at our company.

Equal Pay
While we recognise the challenges we face in improving our gender mix, we are committed to the principle of equal pay for equal work.
To support our commitment, we have a framework in place for annually examining pay practices. All roles in our organisation are reviewed and benchmarked to the external market on an annual basis. We also assess compensation decisions for potential pay disparities by gender, among other things. If disparities are found and not explained in an acceptable manner, appropriate responsive action is taken. Furthermore, we offer employees multiple channels to raise pay disparity concerns, such as the employee's manager, our Ethics Helpline, our Employee Relations team or the Law Department.
This year, to further support and enhance our process, we have also retained a third party to validate our assessments, and this will become a part of our annual process.
Following the conclusion of our assessment and validation process, globally, women at our company earn $0.991 to every $1.000 earned by men for equal performance at the same level.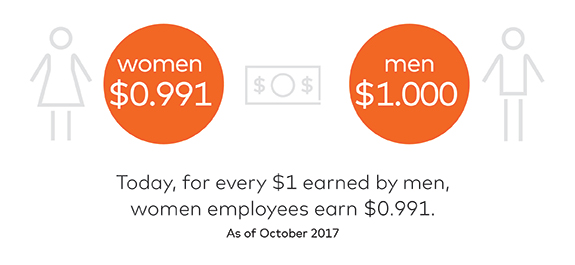 As part of this year's compensation cycle, we are taking appropriate actions to help close the gap for women.
Gender equality is the foundational core of our commitment to building an inclusive, high-performing culture at the company, so we remain dedicated to maintaining practices designed to ensure there is equal pay for equal performance at the same levels.
Pay equity is just one component of our efforts to create a high-performing, diverse organisation. We are also actively engaged in initiatives that will improve our gender diversity at all levels of the company and will continue to look for new opportunities for women to build their careers across all parts of the business.
Female Recruitment
One of our objectives is to recruit from diverse candidate slates, and as a general matter, hiring managers start from a diverse slate of candidates. Last year 83% of slates globally had at least one female candidate. As a result, in 2017 40% of our global hires and 55% of our university hires were women.

Career Development
In terms of career development we are focused on creating opportunities for our high potential women and expanding their skills and experiences through lateral and upward job assignments. We have created a global female leadership development program to identify our next generation of female talent and to ensure these women have the necessary skills to take on broader roles within the organisation – whether through intensive workshops, career moves and other means. We also have formal, targeted discussions to discuss any development and succession planning gaps by gender at our senior management levels.

Additionally, we are involved in a number of other external partnerships and programs designed to facilitate gender diversity. For example, our Board Chairman and other Mastercard management are members of the 30% Club and 25% of our board of directors are female.
To ensure we grow a diverse pipeline of future leaders, we also continue to work with student programs and hire and support junior talent. Some of our more prominent pipeline programs include:
Women in Technology: cultivates the pipeline of girls and women entering the STEM/technology fields. Finds women to join Mastercard workforce. Empowers women within their technology careers.
Girls4Tech™ program: our award-winning education program developed in conjunction with top engineers and technologists at Mastercard to teach the foundations of STEM principles to girls aged 10-13 around the world. We are committed to reaching 200,000 girls by 2020.
LaunchCode: Providing women with opportunities for entry into tech. In addition to being a talent partner for hiring, Mastercard supports LaunchCode's CoderGirl program, a weekly meet-up for aspiring female coders to receive mentoring from seasoned pros.
Our commitment to gender equality is ongoing. We continue to listen to our employees and to take actions aligned with our commitment. We are focused on growing our diverse organisation to reflect all the communities that we serve as a business. All of our employees deserve to feel valued and respected, and empowered to reach their greatest potential. We succeed as a company when we bring together our diverse workforce to innovate and develop solutions for our customers and the communities we support.
Mastercard UK Gender Pay Reports
In April 2017, the UK Government introduced a requirement that both public and large private sector employers must publish an annual snapshot of what they pay their male and female employees. This has been designed to shine a spotlight on the issue and, ultimately, over time, improve gender pay disparity in the UK.
At Mastercard we aspire to ensure that men and women participate equally in all levels of our company, with the same access to compensation and career development opportunities. To achieve this, we continue to be committed to our existing initiatives, as well as to developing new approaches to improve how we recruit, retain and develop women.
Read the report for all Mastercard employees in the UK for 2018
Read both Mastercard UK and VocaLink's reports for 2017.
"Diversity and inclusion cannot be a nice-to-have. Rather, it must be expected, not simply accepted. The results of this prioritisation are clear — better insights, better decisions and better products that differentiate a company from the competition."
- Ajay Banga, President and CEO
Related Content
Treating individuals and their data with respect, building ethical products incorporating privacy by design and being open about our practices are long established principles central to everything we do
Mastercard CEO Ajay Banga shares his personal stories of equality and diversity with NYU Stern Business School graduates.
Get a closer look at how employee diversity is front and center at Mastercard.